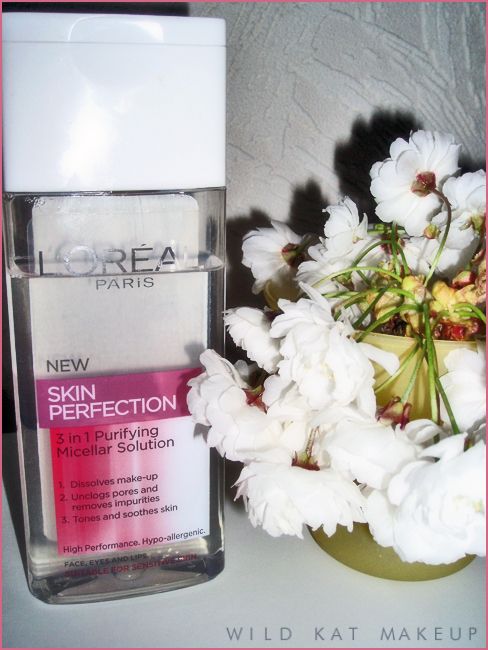 L'Oreal's Purifying Micellar Solution is the current golden child of drugstore/chemist skin care. Hailed as the far more affordable alternative to the almost mythic Bioderma, L'Oreal's micellar solution ticks a lot of boxes.
Having never tried Bioderma's offering, I was eager to give this product a run for it's money. Popping into Superdrug I eyed it immediately with it's more than appreciated £2.48 price tag. I wasn't sure what to expect. A makeup remover with a twist? A miracle to all one's makeup erasing woes?
I've heard and read a great many opinions and reviews on this product, and I agree on many aspects, but disagree on one. The positive points are that it does remove makeup totally, without dragging the eye area to get off the last dregs of mascara and eyeliner. It makes your skin feel hydrated, no sticky residue or overly stripped feeling is present after use. However, I've found it does sometimes sting my eyes. A negative point I haven't seen too much of in the reviews I've read. This could be due to a makeup product of mine not agreeing too well with my eyes and the solution, or it could just be the solution itself. I do wear a lot of eye makeup, so I appreciate that this may have contributed to the discomfort. I'm quite a tough cookie though, and have perservered with using this because I love how quick and easy it is and the way it leaves my skin feeling. I would suggest using this solution with cotton pads rather than cotton wool, as the pads seem to distribute the liquid more thoroughly.
Give it a go if you're after a quick makeup removing fix, but do bear in mind it isn't the only step in night time cleansing, and that it may cause discomfort to those with sensitive eyes!